A Business Proposal For You
To give you an idea of where I'm coming from and what I am offering you, let me start off with introducing you to Michelle, a practitioner like you that I called in 2010.  Her story below was written 2 years ago and her journey with us continues to grow.
Michelle Toocaram, Naturopathic Herbalist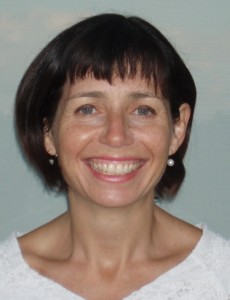 I am a naturopathic herbalist and when I first studied nutrition over 20 years ago I was very surprised to discover that we can't get the nutrition we need from food. The school recommended a seaweed based supplement ( not Body Balance) that tasted horrible but I stuck with it for my family and patients as I could feel the difference on it.
When I arrived in Australia 11 years ago the manufacturer would not support me here so I looked around for alternatives but never found anything suitable that was close to what I had been using. So when Darag called me from NZ nearly 2 years ago and said yes to all my qualifying questions ( all natural, sea vegetables, liquid, no added sugar etc) I was very interested although I didn't believe him when he said it tasted good.
To cut a long story short Body Balance is of course delicious. I trialled it on myself first…
Read the rest of Michelle's story and hear from other practitioners.
Hopefully Michelle's story has given you an inkling of what is possible for you here.  
As a person already successful in business
I offer a Business Proposal for you to evaluate.  Please know that the rest of this proposal was prepared for practitioner's by practitioner's from their own personal experience with Life Force and Body Balance.
This business will
Bring significant additional income to your business
Simply and effectively give your clients better health
It will take about 15 minutes of your time to review this proposal.
I offer you a partnership with an international company that is 30 years old and expanding.
You have the opportunity to introduce an effective regime to your clients.
Many practitioners in your and other modalities have successfully integrated this service with what they are currently doing, with great benefit to their clients and themselves.  Some of the benefits are:
Very minimal financial outlay and all in product that you can use or sell.
The additional income has enabled many to work shorter hours.
All have found a more reliable and steady income without the summer holiday slump.  It can be a very significant income increase.
The ability to give your staff, if you have any, a pay rise that comes from another source.  Not from your business income.
Give your clients lasting health improvements in many areas.
No extra paperwork or administration tasks
Your business has been chosen to be given this offer because the high quality of service you give your clients is absolutely in line with the values of our company.
Please find below an overview of our main product and the simple and effective way you can introduce this to your clients.
I will call you to make a time to answer your questions.  Or you can call me on +858 375 5451
Yours Sincerely
Dr Darag Rennie MBChB (MD)
What Is Body Balance?
Here's a brief overview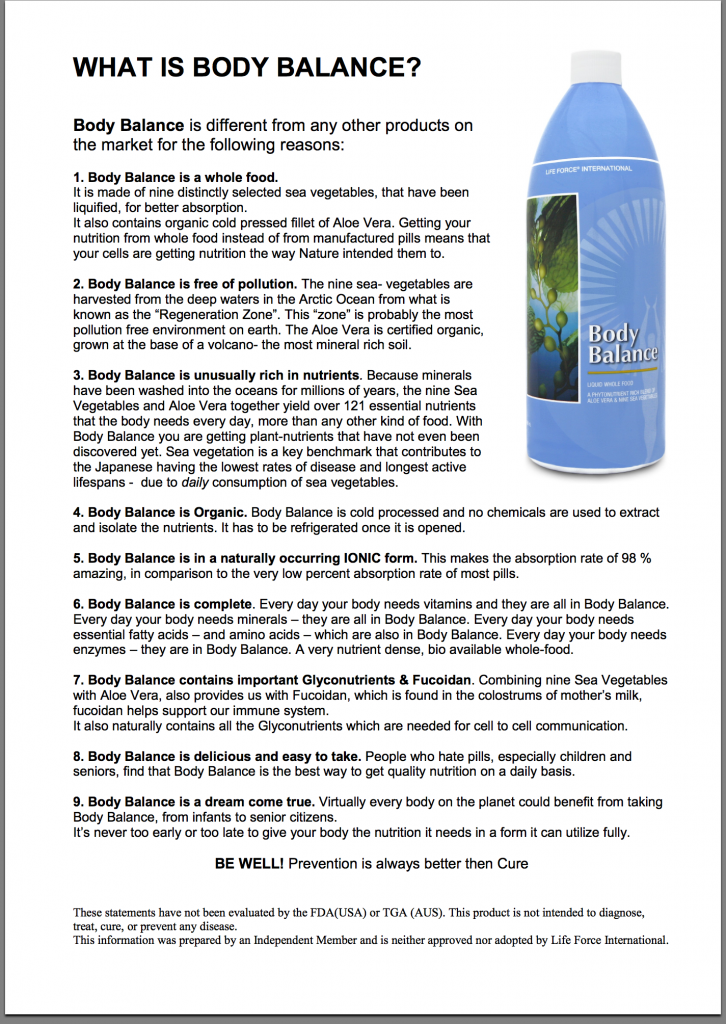 Datasheet_BodyBalance_US_6-14-13
For more information: http://daragrennie.com/health/body-balance
Financial Potential When Recommending Body Balance To Your Clients
Money isn't everything but it sure does help.  And even though it's not the main reason to offer Body Balance to your clients (their health and wellbeing is), it's still good to know how it can work out financially.
How you get paid by Life Force direct:
Bonus from your Client's 1st Order
4 pack order of Body Balance = $33
8 pack order of Body Balance = $55
Payment from Ongoing Monthly orders
4 pack order of Body Balance = $27 per month
8 pack order of Body Balance = $45 per month
The only requirement to be eligible to be paid in this way is that the Practitioner places an automatic monthly order of an 8 pack of Body Balance which can be used for the personal consumption of the practitioner or for retail in the practice.
There are NO annual fees and there is never any other payment necessary.
The Company offers a 90 day money back guarantee on 1st orders placed direct.
With 10 clients drinking a 4 pack of Body Balance, the practitioner will receive
$330 for the first month
$270 per month ongoing
With 10 clients drinking an 8 pack of Body Balance, the practitioner will receive
$550 for the first month
$450 per month ongoing = $5,616 per year.
With 100 clients drinking an 8 pack of Body Balance, the practitioner will receive:
$5,500 for the first month
$4,500 per month ongoing = $54,000 per year
4 Pack Body Balance

People:
Month 1:
Ongoing Monthly:
Total Yearly:

1

$ 33.00

$ 27.00

$ 324.00

100

$ 3,300.00

$ 2,700.00

$ 32

,400.00
These figures are examples and will depend on the size of your practice and how active you are with this.   The 4 pack will likely be the most common order.  Some people do order an 8 pack for themselves but most likely this will be for a couple/family.
How you get paid by your clients direct:
For the entrepreneur:  Purchase a 30 bottle Success Kit of liquid Body Balance per month
Cost of 30 bottles plus P&H = $549.95
Less the Bonus you receive per kit YOU purchase = -$106
Revised Cost = $443.95
Cost / bottle is NOW $14.80
Retail 30 bottles / month at $30/bottle = $900 (100% mark-up)
Increased income potential with Success Kit = $900 per month or $10,800/ year
The Consultation Process – How Practitioner's Are Integrating This
As part of your consultation, offer your client a 1.5 oz sample taste of Body Balance
Inform your client that they can purchase from you between one and weeks supply of 4 oz/day to trial.  This will depend on your client's next appointment with you.  One bottle lasts a week at 4 oz/day.
In the meantime they will receive from you emailed information on Body Balance.
Or you can give them hard copy while they are there.
 Let them know that they can purchase wholesale (cheaper), from the Company, if this is something that appeals to them in the long term (drop shipped to them)
You let them know you will discuss this at their next appointment.
Benefits to your Clients
They are able to have a test run without committing to ordering initially.
Once they do order themselves, they are in charge of their monthly financial outlay.
They can continue the order for as long as they wish.
They can stop the order at any time.
There is no membership or sign up fee.
Benefits to you the Practitioner
Stock required for you to purchase is a maximum of 30 bottles of Body Balance to receive 100% Return On Investment
You receive an initial 55% bonus with your client's first drop ship order from San Diego.
You receive monthly commission for as long as your client keeps ordering.
Ongoing support from me.
Practitioners Add to Their Clients' Health Response
Is tiredness and fatigue the most common complaint your clients have?  Does offering a simple solution to your clients appeal to you?
Life Force has the resources, procedures and staffing in place to start this project immediately without delay or risk.
Science is now recognising the value of not just macro minerals such as calcium and magnesium, but also ultra trace minerals such as selenium, boron and more.  Practitioners such as you are fully aware of the association of depleted soils, poor food quality and chronic disease.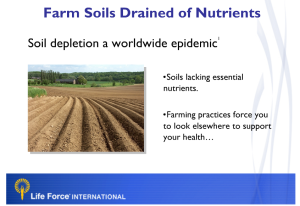 Many health practitioners are reluctant to recommend product because it is just too hard.
Other practitioners who do supply product find that once their client's symptoms are reversed, they no longer attend the clinic.
What would it look like if you could improve the outcomes of your treatments with one simple high quality food grade nutritional product?
A product that has a track record of reducing tiredness immediately.
A product that continues to support optimal regeneration of our cells when consumed long term.
A product with a 30 year production record and delivery by Practitioners.
What would it look like if your clients could purchase this product at wholesale price direct from Life Force, yet you, the practitioner are still paid and paid well?
Benefits your clients will have when they consume this product long term:
Increased energy and better sleep
Healthier skin, nails and hair
Reduced joint pain and increased flexibility
Improved digestion and reduced bloating
Happier and less irritable
Decreased symptoms from allergies and much more
Benefits you will receive as a practitioner
Your clients will experience a better outcome from your treatment and tend to stay with you
Personal satisfaction of increasing your client's level of wellbeing
Another stream of income without having to look for more clients
The ability to offer something to the whole family and still be paid
Your clients stay with you even if they move far away
Body Balance is a whole food able to be taken by all your clients
A network of other Practitioners you can call on for support
Support for Practitioners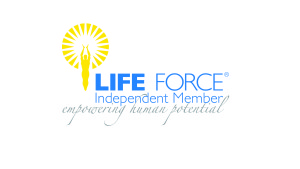 We have thousands of health care practitioners worldwide recommending this product called Body Balance.  If you would like to talk to another practitioner in your modality who is recommending it, we can put you in touch.
Levels of support in place:
We as Life Force Members are your main support regarding product use.  We are there to answer any of your questions and create a fun way of empowering your clients.
We are able to show you how to work out the best pathway for you, given your practice size and interests.
Technical support from Life Force Front Office is available regarding ordering.  The staff is not qualified to answer product questions or give business advice.
We are working on a website, specifically for practitioners and their clients, that will be available soon.
What can you and your clients expect to do?
You are required to register for eight bottles of Body Balance on autoship in order to receive commission payments.
We have a streamlined registration and automatic monthly ordering system.
Contact with head office in Poway, San Diego, can be by email, phone, fax & online.
You will never have your order delayed or placed on back-order.
There is no membership or annual fees; never any other payment necessary
Credit card is the preferred method of payment.
You will receive your Bonus payments within two weeks.
You will receive your commission cheques on the 15th of each month.
We require five working days notice to cancel membership or skip an order.
The Company offers a 90 Day Money Back Guarantee on 1st orders placed direct with Life Force.
Where will you find out information if you require it?
We have regular information presentations to which you can invite your clients.
You will receive a sample of our hard copy literature which can be purchased from http://lfimembertools.soundconcepts.com
I will email you the links you can view and use for your clients
We have several Product Conference Calls run by health professionals in Life Force.
How will you manage this project?
Administration is set up for you
You will be servicing existing clients
Once registered and purchasing product, you are started.
Start your consumption of Body Balance as soon as it arrives.  Watch your story grow.
What is the Process?
Register yourself online for eight bottles of Body Balance ($159.95 + S&H), by fax with this form or by phone via myself or the San Diego office 

(800) 531-4877

When convenient, order the Success Kit ($549.95 + S&H)
Have suitable tasting glasses in your clinic ready to offer your clients a taste of Body Balance.
Why have I approached you?
Firstly, l like what you do.  Every practitioner has their own speciality and uniqueness.
The contribution you are making to your clients' lives through these products, combined with your expertise, is beyond imagination!
No tags for this post.