My aim with this site is to share what I have learned and am learning on my journey and to introduce you to simple things that can make a profound difference to your experience of what life is about.
It's an exploration into the heart of connecting with your spirit, looking after your body-mind and maybe even your finances.
To essentially Simplify Life's Lessons so you can LIBERATE yourself another notch.  The acronym I created for LIBERATE is Life In Balance, Expanding, Radiating And Touching Everyone.  For me that is the ultimate journey of life that we are all involved in.
I like to look at this site as having 3 doorways for you:
Happiness
 ,  
Health
 and 
Wealth
.  Those 3 areas, for me, pretty much sum up most of what we all are learning to deal with.   You can go through the doorway that feels most appropriate for you right now, explore what I have waiting for you and come back to the others, if and as you please.
You will find those Happiness, Health and Wealth doorways, with the black background at the top of the header above, lead to my dedicated pages.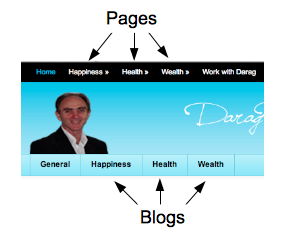 The Happiness, Health & Wealth doorways, with the blue (now white with the theme update) background at the bottom of the header,  lead to my blog posts.
Enjoy!
Darag
All information in this website is for educational purposes only.  Nothing herein should be construed as constituting individual medical advice.  If you have a medical illness, consult your physician.  Consult your physician prior to dietary changes.  Consult your physician prior to starting an exercise program.